John and Mary Beth Keenan
We have had quite the three weeks since our last email! We will do our best to describe these past weeks for you, but we know that more time for processing our experiences will give our reflections more clarity. In less then three more weeks we will be back on North American soil.
On the evening of Tuesday, April 4, Hermana Rosalinda (the Peruvian country leader) and Andres (an employee of Bon Secours in the USA and friend) arrived in Huacho with 3 tons of relief supplies for the town.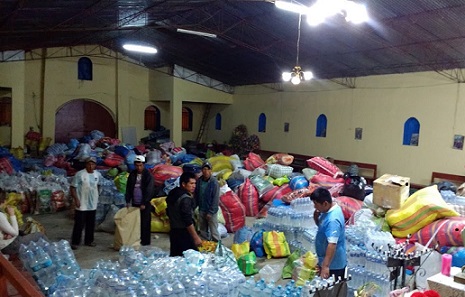 Their caravan were the first cars to arrive from the direction of Casma in three weeks. (Cars from the other side of the mountain had been able to successfully pass the road on and off.) We spent most of the day Wednesday organizing and distributing the items, mostly food.
Early Thursday morning everyone else from the house left to get another set of donations from the other side of the mountain. John and I enjoyed a beautiful weather day, chatting with people as we walked around the weekly market, and cooked for ourselves.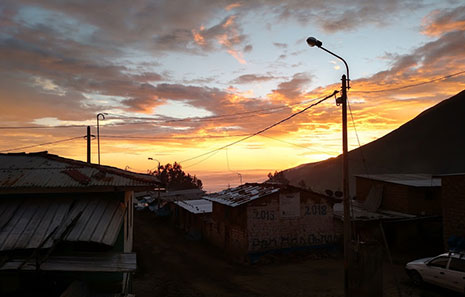 Friday we were back hard at work sorting and distributing another 7 tons of donated items, mainly clothes with a little bit of food. These items were proportionally sorted to be distributed to 15 of the surrounding "pueblitos", or small towns.
The experience of doing relief work in a community in which we are doing development was really unique. We enjoyed being a part of the team receiving and distributing donations, helping with the heavy lifting and the math fit our strengths! It was fueling to us to work alongside people we had met before as we sorted through the donations. We also experienced the joy of libation through the first fresh fruit in the convent for what felt like a long time!
When the relief work ended, we had to remind ourselves of our ministries of presence and many other things that gave us purpose in Huacho. After a very active, engaging, and sunny few days, it was easy to slip back into the slower and some times depressing routine when the rains returned.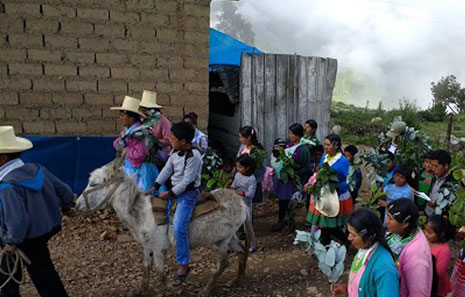 Holy Week gave us a lot to celebrate and a lot to process! There were a few moments that seemed similar to what the first Holy Week might have really been like. First, processing through a small, dirt road town, with a young boy on a donkey and into the church on Palm Sunday seemed authentic to Christ's journey. As did walking the Stations of the Cross in the hot sun, with other members of the town looking at us, confused.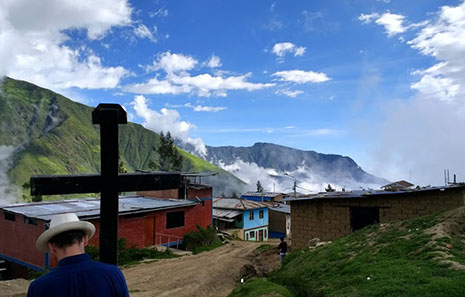 An early Sunday morning service was held, almost completely female (except for John and the keepers of the church), much like the first people to the tomb were Jesus' female disciples.
The traditions sounded wonderful and we were grateful to have Hermana Carmen present to the town's liturgical needs. However, attendance and spirit were both lower than we anticipated. The injustices of spirit that individuals in the Sierra of Peru experience are some of the hardest for us to understand and explain. We now better understand the privileges we have as Catholics in the United States. In Blacksburg, we have two different churches to choose from and access to mass every day of the week. We also have the privilege to access many sources of information, experiences, and people that can help us grow deeper in our faith, almost whenever we want.
While we received communion almost daily with the Sisters in Huacho, we had not attended a full mass since Trujillo.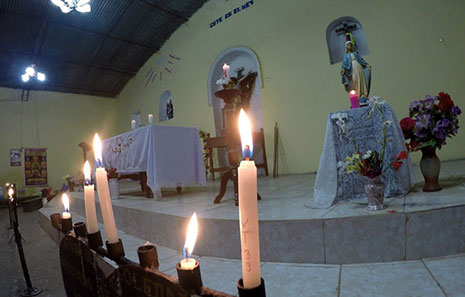 Our last week in Huacho was a bit of a roller coaster. Monday morning, Hermana Elva finally returned! She had left right before the heavy rains to get supplies in Casma (on the coast) and had not been able to return for 5 weeks. Hermana Carmen had the first full week of class since we arrived and was busy with her teaching. We kept busy trying to wrap up a few things for our projects and help around the house. We had been targeting Saturday April 22nd or Sunday April 23rd as our departure dates. Plans changed many, many times between Wednesday evening and Friday lunch. Eventually, with some support of our team in the States, Hermana Carmen came back in the middle of Friday afternoon classes to tell us we had 2 hours to pack, that we were leaving that afternoon. Our minds and hearts were ready to leave, so we were relieved to have a solid plan in place.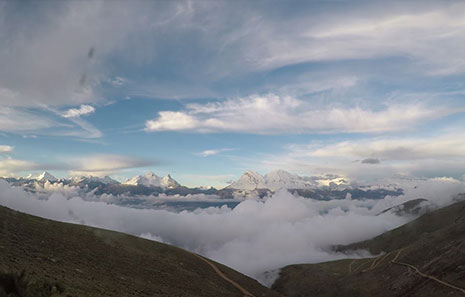 We rode out of the town over the other side of the mountain, to a town called Yungay which sits in between the two different Andean mountain ranges. Mid-way through a very foggy ride, the fog lessened and the most breathtaking snowcapped peaks of the higher range popped out in front of us. It was one of the most beautiful sights we have ever seen and felt like a gift from God. We safely made it to Yungay in time to take an overnight bus to Lima.
We have been resting in Lima since early Saturday morning. It was a whirlwind departure from Huacho, but we are grateful for the hospitality and community of the convent in Lima. We have been able to see some different sights in Lima than our first time here. And finally attend Sunday mass! We will depart for Cusco tomorrow morning, where we will continue to learn about and explore this great country! This time as tourists!
Thanks for all of the prayers and support! It is hard to believe that our time in Huacho is over. The realities there were so different than those of Lima or at home, it doesn't quite feel real right now.
See you soon, Mary Beth and John Keenan